WIDE RANGE OF SEAL TECHNOLOGY FOR VARIOUS APPLICATIONS
In mixing technology, the sealing of a rotating agitator shaft in the passage through a vessel wall represents the principal sealing task. Different sealing principles are used depending on operating conditions such as pressure, temperature, and speed. Since 1950, mechanical seals have been used in agitator technology. EKATO is one of the pioneers in the use of mechanical seals in agitators and continue to produce them today.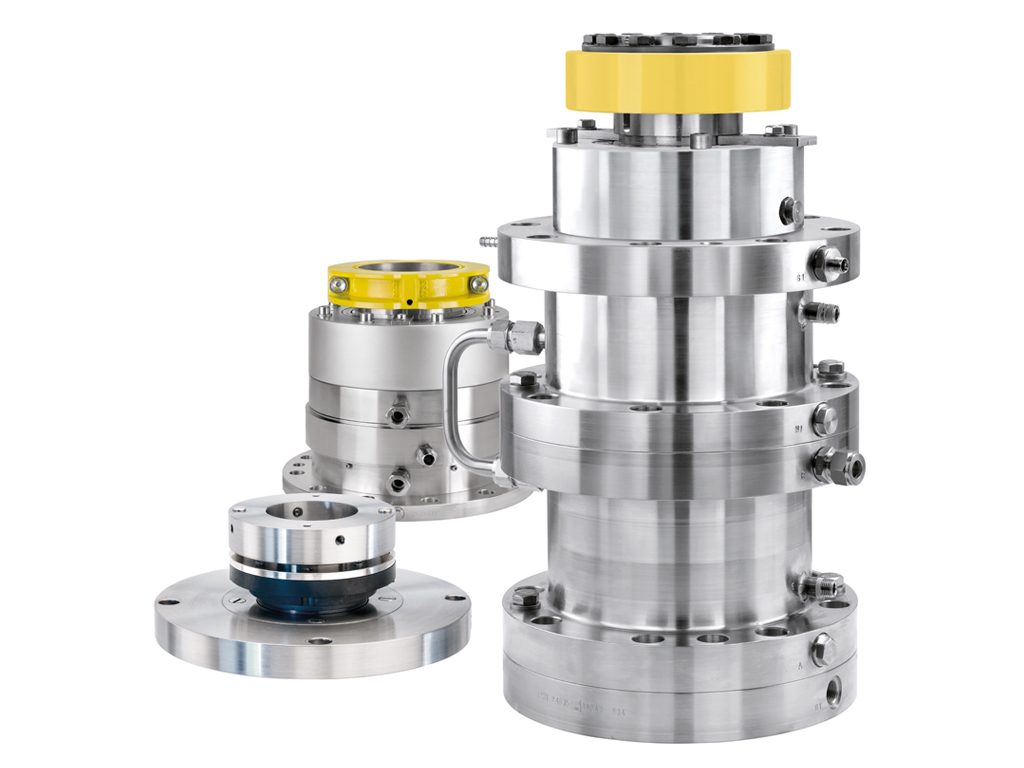 In the sealing technology of EKATO, single-acting, double-acting, and triple-acting mechanical seals are used. A further distinctive feature is the type of seal lubricant. A distinction is made between dry running and gas- and liquid-lubricated mechanical seals. Most mechanical seals of agitators consist of two rotating and two stationary slip rings (i.e., two pairs of slip rings). These pairs of sliding rings form a closed space, the seal chamber, which can be filled with a liquid, the seal liquid. By pressurizing the seal liquid, it is possible to ensure that the vessel contents are safely separated from the surroundings. When the seal chamber pressure is controlled to be always higher than the vessel pressure, the inevitable leakage of the seal liquid through the sliding surfaces can only enter the vessel or the surroundings via the sliding ring pair on the atmospheric-side. Conversely, the mixing product might not be suitable for the mechanical seal.
EKATO has a wide range of robust seals and reliable accessories for cooling and supplying the seal with seal medium. This makes it possible to flexibly perform sealing tasks and find the best solution for all sealing challenges. EKATO seals and their supply are thus always adapted to the specific application as well as the requirements of the customer. Mechanical seals also have safety functions. EKATO therefore always tests the function of a sealing system before delivery. All important operating data (e.g., speeds, temperatures, pressures, flow rates, filling levels, and leakage quantities of seal liquid and cooling water) can be continuously recorded electronically and submitted to the customer in the form of an inspection report. Read More …
---
Another product from EKATO : 
- Hydrogenation Plants & Pilot Plants
- Industrial Photoreactors
- Impellers 
- Mechanical Seals
- Automatic Seal Supply Systems